Cariboo, A True and Correct Narrative
By Wm. Mark, continuing an account of his travel, over ten thousand miles, by sea, rivers, lakes and land, to the Cariboo gold diggings, British Columbia
Typescript by Stan Hack 2003
Cariboo
A True and Correct Narrative

By Wm. Mark,
continuing an account of his travel, over ten thousand miles, by sea, rivers, lakes and land, to the
Cariboo gold diggings,
British Columbia
All you who are thinking of going to Cariboo,
Before starting out, please read this book through;
'Tis written by one who has been over the route,
And contains some hints useful to you, no doubt.
Stockton:
Printed by W. M. Wright, Machine-Printer, Silver Street.
1863
(page 3)
Cariboo: A True and Correct Narrative
In consequence of several lengthy letters which appeared in the Times Newspaper, from the pen of one Donald Frazer, then residing in Victoria, British Columbia, acting at the period as correspondent for the above Newspaper—letters which excited the attention of thousands of men in the British Isles, and on the European, American, and Australian continents, causing them to leave good situations; to forsake home; to dispose of comfortable farms, and sink the delights of civilization, to enter upon a life of adventure, and risk their all in a visit to those gold fields of Cariboo, described by him as surpassing in richness all other mines hitherto discovered; also representing the colony as possessing large tracts of rich land suitable for agricultural purposes, with a first-rate climate and abounding with game of all description. I, in company with two sons, started off for this Golden Eldora. We left our homes on the 31st of March, 1862, and sailed from Liverpool on the 2nd day of April in the steam-ship "City of Baltimore", in company with somewhere about three hundred passengers. We called at Queenstown, Ireland, the following day, and took in about three hundred boys and girls from the Emerald Isle, all tired of their native soil, and going out to try their luck in a foreign land. They were bound for the Canadas, and the United States, but many of them, hearing of the glorious prospects in the newly discovered gold regions, changed their minds at once, and set out with a
(page 4)
determination to have their share of the precious metal.
We left Queenstown in the evening, with a living freight of six hundred human beings, and steamed along St. George's Channel with the Irish coast in view, till the shades of night prevailed, and deprived us from seeing the scenery of owld Ireland. We hurried off to our bunks to seek rest, but there is very little to be found aboard a ship rocking to and fro. Next morning, when we turned out on deck, the land had disappeared altogether, and we were now fairly launched out and surrounded on all sides with the mighty water of the Atlantic, whose face at this time was getting ruffled and angry like, the wind blowing strong against us, and telling upon the passengers, sickness and sadness depicted on almost every face. What a scene to look upon! So the night passed away, and the morning was ushered in, the wind still blowing fiercely against us, and the sea fearfully agitated; sickness and misery still prevailing on every side, which continued the most part of the night. Next morning the wind abated; weather improved, and likewise the condition of the passengers; most of them were able to leave the filthy and close dens in the steerage, for the healthy and invigorating breeze on the deck of the vessel. Beautiful day and night. Sunday morning very fine; all hands on deck enjoying themselves as best they could, when the ship bell peeled forth to announce to all on board, that divine worship was about to commence in the saloon; a good many attended the ceremony, which was conducted by the Captain, who went through the business in a priest-like style. This over, another scene presented itself which appeared to be more attractive, a regular rush was made and every one (sic) seemed in earnest. Spice dough was on the table for dinner, and it was a treat indeed. It only made its appearance once a week; the other meals, each of which, during the week were made up of very inferior articles both in quality and quantity; this over, Father Skilly, a catholic priest, made his appearance to console and give comfort to the lambs of his flock. After collecting them all into one fold, he commenced by reading over a long rigmarole of unmeaning gargon (sic), after which he commended them to the care of Mary, the mother of God, whom he trusted would watch over them, and bring safe to the desired haven; (poor deluded beings, more to be pitied than laughed at.) This farce over, one and all began to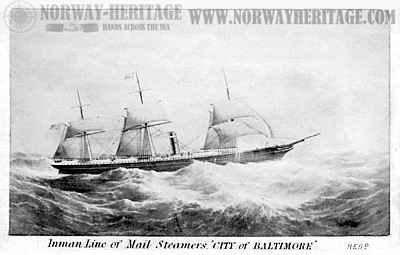 (page 5)
employ and enjoy themselves in various ways, but this was of short duration.
The course of pleasure never runs long,--the wind began to whistle, and continued to whistle louder and louder, till the waves began to dance, and a rough dance we had; in their mad career, the waves struck the ship some fearful blows, which made her tremble from stem to stern, and the dear Irish boys and girls, especially, became alarmed, though placed in the charge of Mary, they seemed to lose confidence, and fancy (sic) they were all going to the bottom. This storm continued the greater part of the night; the morning brought better weather, and a calmer sea; a vast number crowded the decks, and the day passed away very pleasantly, with the exception of one sudden and violent hurricane of short duration, which drove each and all to seek shelter where best they could find it. Night pretty fine; next day wild and stormy.
Everyone seems to have got over their sick season; singing, dancing, and various other amusements going on till the hour of ten, after which, the catholic portion assemble themselves together to repeat their Ave Marias, &c., and then to their Bunks. Little sleep to-night: the wind blowing fiercely—the sea dashing wildly up against the side of the ship, causing a feeling of dread all around; and so the night passed away, followed by another stormy morning. The wind continued to blow keen all day, accompanied with sudden gusts of rain, which seemed to threaten all with sudden destruction; yet in the midst of it, what a bustle—six hundred human beings all huddled together, partaking of crackers and tea. Night got out pretty fine. Wednesday, 10th: fine day; but a miserable night. Thursday passed away pretty well; passed several ships. Friday, another wild day; witnessed some awfully grand flashes of lightning in the west; came on a very wild stormy night, the ship rocking fearfully; glad when morning came. Saturday 13th, Sunday 14th, and Monday 15th, three miserable cold stormy days and nights we passed, rocking on the vast abyss.
Methinks if intending emigrants could form the slightest idea of the sufferings and misery and dangers they are exposed to, many of them would
(page 6)
stay quietly at home. Tuesday, better day; the sea was beautiful and smooth, like one vast sheet of glass; saw several large shoals of porpoises sporting about, and several whales blowing the water high in the air. The sun sunk (sic) beautifully in the western sky,--the moon rose majestically grand,--and the night, 'twas lovely. What a change to what we had passed through! Retired to rest about ten o'clock, the wind calmed, the sea quiet. Slept pretty well; wakened up about five o'clock; (the Pilot had just come on board) rose and went on deck, and was delighted to hear the sound of, "Land ahead." Every one (sic) hurried on deck to have a peep at it, and seemed to be overjoyed at the prospect of once more, before long, of having the pleasure of standing on terra firma. The day was fine; and the night passed over very quietly, followed by another lovely morning; the porpoises and dolphins were sporting around us on all sides, as though they were glad to see us.
We reached the quay at New York, and came to anchor about nine o'clock in the evening, but were doomed to spend another night on the floating "City of Baltimore." I felt, as did the rest, I dare say, a strong desire to leave this City, (having been in it for sixteen days) and walk into the City of New York; but this pleasure was not allowed us. However the ship being at anchor, and all pretty quiet, we passed a pretty comfortable night. In the morning betimes, all was bustle and confusion, packing up, and making ready for our departure. The tug boat arrived alongside of us a little after eight o'clock, and then the fuss commenced,--luggage and passengers were passed from the steamer to the tug without ceremony, and many a good trunk got such a shaking at that time, as it never afterwards would recover. In a couple of hours, the luggage and passengers were all transferred to the tug boat, and on our way across the river. After parting company with the ship, but still in sight, a general waving of hats commenced, and one loud and universal shout was given, and responded to by the officers and crew from the bulwarks of the almost deserted "City of Baltimore." The tug was not long in reaching the landing place at the Castle Gardens, and soon we were all placed safely on the American shore.
I cannot say but I felt a peculiar sensation in finding myself standing on the soil of the Great Republic, especially under existing circumstances, when the whole nation was up in arms, and split asunder, butchering one another with
(page 7)
wholesale slaughter, and spreading desolation and woe through the whole length and breadth of the land. Oh! Once mighty America, how low thou art fallen! What will thy future destiny be! Before we were allowed to enter the city, we had to undergo examination, give in our names, where from, and were (sic) destined; this required some time, and before we were all passed, half the day was spent. After this, the connexions (sic) and friendships recently formed in the "City of Baltimore", were severed asunder, and we were all soon dispersed to different parts of the city, each no doubt, anxious to find a comfortable place, and get a decent repast, a luxury we had not enjoyed since leaving Liverpool.
I and a party of five others got very comfortably esconced (sic) in private lodgings, kept by a Mrs. Hughes, in Queen-street: board and lodgings seventy-five cents per day each. The next important matter to be attended to, was a good wash, which we soon procured in the shape of a warm bath: each felt immensely benefited by it. We then had a walk into the city, but being excessively hot, our walk was short; the streets we passed through were narrow, badly paved and dirty. We got a very unfavorable impression of the city on our first tour over; but having to stay here a few days, we had time to walk about, and the city seemed to improve each time. We rambled out, till at length our first impression faded away, and we came to the conclusion that it was a noble place,--streets wide, with splendid buildings on each side; here and there a spacious square, circus, or crescent attracts your attention, and parks richly laid out in different parts of the city. One day in our perambulation, we saw a crowd collected in one of the Parks; we went down to them, and found they were gazing on the planet Venus; we turned our eyes in the direction, and clearly saw the planet with the naked eye about mid-day. In the afternoon we went down to the office of the California Steam Shipping Company, and on making enquiries we were told the steamer "Champion" was to leave for Aspinwall on the 22nd, and that the steerage departments were all engaged; and so great was the rush for Cariboo, that parties were securing tickets for the next steamer to leave in a fortnight. We concluded not to wait; we therefore engaged berths in the second cabin of the "Champion," for which we were charged one hundred and fifty dollars each, for
(page 8)
our passage through to San Francisco. In the evening we went to Barnum's Theatre, and were pretty well entertained, General Tom Thumb being the source of attraction at that time.
Sunday, wet day; got out fine in the evening; we took our places in the railway cars, and rode out to the Central Park, a most magnificent place, beautifully laid out, and fountains and statues in every direction. Monday morning, wet and cold; packed up, and went down to the ship: what a bustle and confusion there was—what a shaking of hands, and shedding of tears, and waving of hats and handkerchiefs, when the "Champion" moved away from the dock: a great many no doubt were parting to meet no more, and this was the last long lingering look; and so long as the steamer was in sight, did they stand and watch, and then no doubt many turned away with aching hearts, leaving the gallant vessel with its living freight to its fate, to plough its way across the Atlantic; and a living freight there was,--upwards of twelve hundred human beings. The steerage department was crowded to excess; not half of them had berths to sleep in, they had to lay down any way where they could find space, and the food they had was of the meanest description. We had not been many hours out to sea before the wind began to blow, and every thing (sic) around us betokened a stormy night, which we had in reality before midnight. The ship was rocking and reclining to and fro, and the waves were dashing furiously against her, and seemed to threaten us with utter destruction. What a scene there was below! Almost every passenger on board was prostrated with sickness, and vomiting in all directions. What a predicament to be in,--upwards of twelve hundred human beings helpless, exposed to the greatest danger; did not know but the next billow might bury us all and every thing (sic) beneath the ocean, and not leave one behind to tell the tale.
Oh! Cruel Atlantic, when thy wrath is once aroused, thou art not easy to pacify! What a vast amount of life and property thou hast required to be sacrificed from time to time, to appease they raving and roaring passion! And yet we have seen thy face as calm and smooth as a mirror, and innocence stamped upon thy countenance. In a short time the wind moderated, the waves sunk to rest, and the ship "Champion" still retained her "Champion" ship, and
(page 9)
glided smoothly and swiftly over the sea. The voyage for the remainder of our journey to Aspinwall was favorable; we steamed onward day after day, passed Cuba, and the West India Islands. Saw a great many whales floating along; and a vast quantity of different specimens of the finny tribe sporting about. One curious little fish, called by the sailors,--Portugese (sic) man-of-war, in consequence of their striking imitation of a ship in full sail: many of them are a beautiful purple colour. We saw myriads (sic) of flying fish; likewise at times the ravenous, and much dreaded shark might be seen gliding swiftly along just beneath the surface of the water.
On the 29th, we passed through the Caribbean sea, in the Tropical regions, we began to find it uncomfortably hot, so much so, we were obliged to quit our bunks, and take up our lodgings on the deck of the vessel. We arrived at Aspinwall, Central America, on the evening of the 30th of April. About nine o'clock a good number of us took a walk into the city, but being dark, we had not a chance of seeing much. The place was lighted up here and there with oil lamps; but what we did see was of a peculiar nature. The natives were strange looking people in a semi-naked condition; great many of the women were sitting smoking cigars, with a stall or bench before them loaded with various kinds of eatables to sell; also cocoas, oranges, lemons, bananas, and they seemed to have an eye to business; they looked out for number one. A good many of another class might be seen walking about the streets in a loose white dress, with fans in their hands, and acting quite the lady. There were a good many stores, and in the very most of them liquors of all kinds were sold. The site of the town is very good; the streets laid out pretty well; there are a few brick buildings, but the greater part of the houses were built of wood, (since then about one-half of the town has been destroyed by fire,) after rambling about till we were tired, we returned to the "Champion," and took up our lodgings again for the night, but there was not much sleeping, parties were going and coming all night long.
Betimes in the morning, we rose, and made ready for our exit; and by seven o'clock, we had all taken our leave of the "Champion." The cars not
(page 10)
leaving before ten, we had time to look about us with daylight. It was excessively hot; we were exposed to a scorching sun, and glad to find shelter anywhere. The negroes were working in their "bare pelts," and the sweat was teeming off them: they presented the appearance of a mass of dirty grease melting away, and the women, what a sight! Repulsive looking beings, sickening to look upon; many of them were going about selling a drink made of lemons and ice water, which they served out of a pail at five cents per glass; and a splendid trade they did, it was so hot and droughty (sic), people drank it with greediness. Time up, a rush was made to the cars, we were soon all seated, and then the cars were deluged with vendors of all kinds of eatables and drinkables to the last moment of starting. The cars here are of a superior construction to our English cars; there is no side door, the entrance is at the end, and there is a track or path through the middle of the cars, so that the conductor can walk from one end of the train to the other, without inconvenience to the passengers, or danger to himself. The passengers are seated in couples on each side of the path; also a rope passes along the top of every car inside, from the engine to the guard's van, attached to a bell, so if anything occurs in any carriage, or any part of the train, communication can be made at once with the engineer. After we had provided ourselves with a fan, so useful in this country, we bade adieu to the motley group of Aspinwall, who announced our departure by a terrific shout in conjunction with the wild scream of the engine that started off through the wood at full speed over one of the most crooked railways I ever saw, curvilinear from end to end. The scenery on each side was beautiful, trees laden with fruits, cocoas, oranges, lemons, pine apples, bananas, limes, &c.; and trees of various kinds clothed in beautiful foilage (sic): leaves several feet in length.
We passed a great many villages, or groups of wigwams; the inhabitants were in a semi-naked state; the younglings were running about completely naked, and it was with difficulty sometimes you could pick them out from amongst the black pigs that were running about in abundance. Every four miles we passed a neat white painted wooden building, or station; also the residence of the superintendent, whose business it was to look after the four miles of railway, and keep it in good condition; also to attend to other business connected with the
(page 11)
railroad. I did not envy his situation; I should not like to live here, the heat is so oppressive. After a run of three and half hours over a distance of forty-seven miles, through the most romantic and wildest scenery I ever beheld, we arrived at the old and ancient City of Panama, situated on the Pacific coast, Central America, and we were greeted on our arrival something similar to our arrival at Aspinwall, by a curious looking people, with their merchandise for sale. We visited the city and found many large brick buildings covered with tiles, no windows, just doors to open as convenience required. They could here boast of several churches and a cathedral, which we visited, and found not to be wanting in images and figures, shewing (sic) at once they were under the influence of Popery, and we observed many devout worshippers bowed prostrate to the earth before their idols. I felt sorry for them, but saw no hope for their improvement or redemption, till priestcraft and popery are abolished from amongst them. There were many large stores, and well stocked with goods of every description. We visited their market place, a rough and rugged place, where there was a little of all kinds for sale. The lowest current coin here is half-a-dime—five cents. We now hurried away to see their burying ground, which we found to be a place enclosed with a high brick wall, against which is built up places with shelving, on which the coffins are place, and so remain for a twelvemonth; after which time they are taken and burnt, and so make room to deposit the corpses for the next twelvemonth to come. The population of the city is somewhere between twenty and thirty thousand.
Before proceeding further I may just state that the making of the railroad across the isthmus, was attended with great difficulties, and fearful sacrifice of human lives, the works being delayed many times, and actually stopped for want of hands; and it is stated that as many died as there are sleepers, or bearer, over the whole length of road, forty-seven miles or eighty-two thousand, seven hundred and twenty yards: the bearers are laid one yard apart, therefore if the statement be correct, there were eighty-two thousand seven hundred and twenty deaths. Once over they secured many thousand Chinamen, thinking they would be able to stand the climate; but in this they were mistaken; after being at work a few months, they fell into a desponding (sic) melancholy condition, and while in
(page 12)
this state, a vast number of them committed suicide, but the greatest part of them were carried off with a fever call the Yellow or Panama fever, which prevailed at this time to an alarming extent. The time of our departure drawing nigh, we packed up our luggage and started for the quay, where a steamer and tug-boat were waiting to convey us across the bay to the steam-ship "St. Louis," which was laying outside the bay. After a great deal of bustle and confusion, we, with our baggage were stowed on to the steamer, and boat, and so crammed and jammed together, till we could hardly breathe; the heat was intolerable. I am no way surprised that so many are taken ill, and die of the fever here: the wonder is, that there are any who escape with their lives. A shout was heard,--"all aboard," so off we started accross (sic) the bay. A very nice harbour it appeared to be. In a little time we lay along-side the steamer, and then another tugging and pulling commenced, which went on, for upwards of two hours, before we all got transferred from the tug to the sainted ship; and we lay here for a few hours.
Precisely at eight o'clock, in the evening of the 1st of May, orders were given to weigh anchor, and in a little time we found ourselves steaming away over the Pacific ocean. The night was fine, and the sea was calm. We passed several large rocks or small islands; also a little harbour called Astoria, where we observed a good many vessels laying. We retired to rest about eleven o'clock, slept pretty well, rose early in the morning, and went on deck. We were running along the coast; the scenery was delightful,--mountains towering one above another from five to ten thousand feet high, the tops of which were hid in the clouds. To day we witnessed a change of scenery:--two men thought it right and proper to have a fight, and for so doing they were each rewarded with a pair of iron ruffles, and favoured with a stand on the paddle-boxes, one on each side, under a scorching sun, for several hours, and a good roasting they got; they did not attempt a second fight.
This over, scene the second was commenced:--A cry was heard, "A man overboard;" the life-buoy was flung out; the boat was launched; the steamer was put back, and after an hour's delay and search, nothing was seen, it was
(page 13)
concluded to be a false alarm, the worst part of the business was, in launching the boat, one of the sailors got his hand fearfully hurt, which completely disabled him for the rest of the voyage. Came on a very wet night.
May 3rd: Tremendous thunder and lightning, accompanied with a heavy rain. A thunder-storm at sea is an awfully grand sight. Excessively hot. Very hot again next day, with thunder and lightning. Rained in torrents for half-an hour, when it cleared out, after which it was much cooler. Religous (sic) service, sheer hypocrisy—more to their credit if they had endeavoured to have made the passengers in their charge a little more comfortable, being treated more like hogs and dogs, than human beings. We thought our treatment on our way to New York very bad, but we found it doubly worse under the Americans; also let me add: having a large number of Yankee passengers on board, matters were still worse, they are the most disagreeable travelling companions I ever was with; they do certainly excel in a few things: filibustering, tobacco eating, and the use of bad and filthy language. You may hear some pretty stout swearing in England amongst the navvies; but the oaths made use of here, by even the best educated amongst them, are so fearful as to make the most wicked European shudder, and blush to hear them.
An old lady from New York, on her way to visit two sons in San Francisco, who had been ill for some time, died through the night, and was this morning consigned to a watery grave. She was attended to during her sickness, by a coloured woman, who robbed her of a good few dollars; there was a great deal of plundering and pilfering constantly going on; also other strange deeds of iniquity practised from day to day.
I do think the present arrangements in emigrant ships are fearfully defective, and that it is high time some steps were taken towards improvement in this matter.
Very hot and sultry all day; thunder and lightning in the evening. Tuesday, Wednesday, and Thursday, excessively hot days; thunder and lightning every day. The skin peeling off the faces and hands of most of the passengers in consequence of the heat; the water you have got to drink is completely warm, being nothing but the condensed steam from the boilers: you may get a drink of ice water at the bar, but for it you must pay a shilling.
(page 14)
Called at Acapulco, a small harbour, on the Mexican coast, got in about nine o'clock in the evening. The vessel was soon surrounded with canoes laden with fruit, spirits, cigars, &c., offered for sale by strange-looking pieces of humanity, in a complete nude state. A good stroke of business they did with the passengers; they also gave us a proof of their diving properties,--some of the passengers dropped a piece of silver into the water, down they went, and caught it before it reached the bottom; they appeared to me to belong to the amphibious tribe. A lot of them were engaged in getting coals and water aboard, and a strange exhibition it was to see them at work.
We got all ready, and started out about five next morning, and were soon steaming onward over a calm and beautiful sea, along the coast of Texas, with its rough and rugged mountains towering high in the heavens, a many of them at intervals might be seen belching out fire and smoke, and no doubt spreading ruin and devastation in the immediate neighbourhood by sending forth the boiling lava in torrents down the mountain sides. Saturday and Sunday, two fine days, passing through the Gulph (sic) of California. Religious service performed twice today, thin attendance and no wonder—mockery—men treated like animals and worse, seven days in a week, and then called together for divine worship.
Religonists! (sic) let not your zeal for the soul of men deprive you altogether of your care for their bodies.
Came on a very wet night; Monday, dull, cold day. Got out of the Tropics, we felt the change keenly passing from intense heat to severe cold in a few hours. Came in sight of the rough and rugged hills of Lower California in the Mexican possessions. Little signs of vegetation: all appeared very barren, but considered very rich in different kinds of minerals. Tuesday, a complete change in the weather, very cold and stormy: sea rougher than we have had since leaving Panama. Wednesday, wild, cold morning; so cold that we had to make an addition to our clothing; very disagreeable night. Thursday, another miserable day and night. Woeful position to be in, on board an emigrant ship in bad weather. Friday, better weather; calm sea: a large quantity of porpoises and dolphins and a great many whales sporting around us. Saturday, a beautiful day; drawing nigh to San Francisco; night cold; little sleep, passengers prowling and plundering all night long. Informed that we were just passing through the
(page 15)
Golden Gate, by a loud report from the cannon. Very pretty scenery on each side as we approached the Golden City. Came to anchor precisely at six o'clock on the morning of the 17th of June, and with glad hearts and smiling faces, one and all rushed from the ship down the gangway and hurried from the prison house in which we had been confined for upwards of sixteen days in torment.
If intending emigrants were aware of the sufferings and privations to be endured aboard ship, especially in the steerage department, how few would make the attempt. If D. Frazer had been an honest men, he would have said a few words on this subject; but, he only presented us with the bright side of the subject, carefully glazing over every thing that might inspire fear, and cause the intending emigrants to shrink from hardships—the like of which Californians, Australians, and Canadians had never before experienced. I only wish he was compelled to make one journey, it would teach him a lesson, and cool his judgment a little, and tend to make him what he never was—a man.
What a crowd there was collected on our arrival; no sooner escaped from the sea sharks, then we are surrounded with the land sharks, all ready to devour us; cabbies, bussmen, and bummers, in abundance; cards flying in all directions; voices heard on all sides; free ride to the "what cheer" hour, and every other house, and a many find on their arrival at those houses, they have got half-a-dollar to pay for their free ride; let me also hint, that you must keep your "weather eye" wide open when at those houses, for many a poor fellow has been robbed of all his money, and turned out a beggar.
We stayed some time in San Francisco at the Eagle Hotel, and were charged for board and lodgings, five dollars per week. Every morning paper we saw, contained some unfavourable report from Carriboo (sic), stating that hundreds were hungering and starving to death, and that vast numbers were returning daily. Those reports deterred many from going further, and as matters turned out, they chose the better part. We took another view of the matter; we knew the Americans were unfavourable to British Columbia, they would much rather parties stayed in the States of California, or Oregon, or go to the Salmon River Gold Mines, which turned out to be as great a mistake as Cariboo.
(page 16)
Looking at the matter in this light, we concluded their representations were false,--we felt determined to proceed. In our every day rambles through the city, during our stay, we were many times struck with wonder and astonishment, when viewing this mighty city, with its noble buildings, and splendid markets, all appeared to have risen as by magic. Fourteen years ago there was no San Francisco City here, and since that period, the city has been several times almost completely destroyed by fire. In the places where the wooden buildings stood, may be seen noble buildings of brick and stone, that can vie with any city in the world. A great part of the city is still built of wood, but nightly disappearing by that destructive agent fire. The lower part of the city is built over the water, on piles and planks; and the streets are in a bad and dangerous condition, so much so, that it is no very uncommon occurrence for parties to fall through, and be drowned.
There are railways laid through all the principal streets, and people are conveyed in cars, at a cheap rate, from one place to another. The inhabitants are of a very mixed nature, representatives from almost every part of the globe. There are a great many Irish,--I believe the principal part of the out door work in the city, is done by the Irish labourers. The Chinese are very numerous, whole streets occupied with the, and a many of them are well do to, they have large stores, and well stocked with all kinds of goods; they trade altogether among themselves. The only benefit derived from them by the State, is from a tax of four dollars per month each, they have got to pay for being allowed to live in the state; there are a great many of them make a livelihood by the laundry business. You get amused in passing through the streets, by the curious names you see above their places of business, such as: Ah Sing, Ah Chow, Ah Chi, Ah Lum, Ah Long, Sam Yah, washing and ironing done, Sam Yup & Co., Merchants, &c., &c. They are a disagreeable, thievish lot; the women are a little odd-looking, almond-eyed peice (sic) of humanity, and their peculiar dress does not improve their appearance in the least, they go hopping about with their little feet encased in a kind of a shoe, with a circular bottom; they remind me very much of a cat on cockle shells; they are generally of a suspicious and loose character; their mode
(page 17)
of obtaining a living is not one of the most respectable kind; all monies they make in trading, &c., over and above what they require for maintanence (sic) is sent back to China, and even when they die, their corpses are boxed up and sent over to the Celestial City for interment, with this exception, if any of the males have lost their tails, an appendage they wear from the crowns of their heads to the soles of their feet, they are not allowed back to china (sic) neither living nor dead. San Fancisco, I beleive (sic) is one of the most notoriously wicked places in the world, and this arises in a great measure from the fact that its population is even (sic) thirsting for excitement, and the consequence is the wildest scenes of rioting and debauchery, are of nightly occurrence.
June 3rd: The steamer "Brother Jonathan," leaves to-day for Victoria, crowded again with men and cattle from stem to stern, she steamed away from the dock precisely at five o'Clock in the evening. Stormy weather with a dense fog up till Thursday morning. Crossed the bar and entered the magnificent Columbia river, bounded on the right by the Washington territory with its lofty mountains, two we observed particularly, Mount Cent and Mount Hood, the latter we were informed, rose 17,000 feet above the level of the sea, and wore a perpetual crown of snow on his head, and not in constant dread, like a many monarchs of the earth of losing his crown. We passed out of the Columbia into the Williamette river, with its lovely scenery on each side. We stayed a few hours at a small place called Astoria, then steamed onward to Portland City, discharged some cargo and the passengers bound for the Salmon River Gold Mines. Portland City is pretty well situated, rather low, liable to be inundated when the river rises, which which (sic) was the case at this time, we saw several parties boating in the streets; the buildings are all wood, the streets pretty well arranged, the city is surrounded with mountains and forests, containing some of the best and largest firs I ever saw.
A few miles further up the river stands Oregon city, the capital of Oregon territory. This is a great corn and fruit producing country; wheat is sold for twenty-five cents per bushel; there are also a large quantity of cattle and horses raised here; beef is sold for three cents per pound; pigs and sheep are bought for a mere trifle. We left here on Monday morning, and steamed down the river; we stayed a short time at Astoria, and and (sic) then hurried off to get across the
(page 18)
bar before dark; we were oft attended with great danger, the bar being shallow, and the sea generally rough; we however got safe over before dark, and were once more ploughing our way over the Pacific ocean. We completed our sea traveling next day at three o'clock. The ship layed quietly at anchor in the harbour of Esquimalt, Vancouvers Island, and in a short time every passenger was once more on terra firma, not one sorry, I venture to affirm, in parting company with "Brother Jonathan," or any that belonged to him. We now shouldered our packs, and prepared to walk on to Victoria, four miles, being very hot, the road lying through a wood, the most of us got a good sweating, especially our friend Emmerson, who had got seventeen stone to carry, exclusive of his pack. In our journey through the wood, we passed a good many Indian Squaws, sitting and loitering by the way side, and when we reached Victoria, we found the Indians plentifully enough, a many of the Squaws dressed up in the height of fashion, leading an idle and dissipated life, and strange to say, were supported in their idle habits, by those of another complexion.
After looking about awhile, we found out we wanted something for the inner man, we therefore procured some provisions, and went outside the city, and erected our tent, kindled a fire and cooked some refreshments, and partook thereof; after a while, we laid our bodies down to sleep for the first time, after the gipsy fashion. At a short distance from us, was an Indian encampment, well peopled, living in a very primitive state, their manners and customs appeared very strange to what we had been used to; but, which was likely to be our lot and portion for some time to come. We found them, however, to be very quiet and peaceable neighbours: this is more than I can say of the white men; one fellow worse for liquor, came betimes in the morning to our tent, and wished to show off a little, but, he found he could not get on very well; he bullied for a while, till we told him we should be forced to whip him, after which he calmed down and slunk away, and gave us no more trouble. Wednesday after breakfast, we went into the city, and rambled about for some time; there are several pretty good streets, in which are a good many brick buildings; but, a great part of the city is composed of wooden buildings.
All round the suburbs are covered with small wooden shanties, which are rented by the labouring classes, for which they pay from four to six dollars per
(page 19)
month, a many of them are occupied by Indians and Chinamen, and they only have one room, in which they perform all their domestic duties, cooking, washing, eating, and sleeping. There are several churches and chapels, and a very pretty cemetery in the city. The Hudson Bay Company have got several large warehouses, and other places of business, along the quay, and a great amount of business they: they have had a fine haul out of the Indians, in the skin trade, for many years past. Land has risen in value, in and around the city, and lucky was he, that secured any a few years ago. One party told me that he had one lot for which he paid fifty dollars, which was now worth five thousand dollars, and there were two water side lots sold by auction, the first brought seven thousand five hundred dollars, the other lot, which was sold a week after for fifteen thousand dollars, purchased with Cariboo gold, by Mr. Steele, one of the lucky Caribooites. I, in company with John Emmerson, visited Governor Douglas, he received us kindly, entered freely into conversation with us, answered all our inquiries, and gave us such information as he thought would be useful to us on our forward journey, we fancy he didn't speak with much confidence of the Gold Diggings; he told us if were not successful the first year, we were not to be disheartened, there was plenty of work on the roads. I didn't like the idea of coming ten thousand miles, to make roads in British Columbia, although many hundreds that came out on the same errand, had that to do, and glad to get it. When we were about leaving, he ordered his sergeant to show us through his gardens and orchard, which we found to be very pretty, all laid out in the Old Country style; he again came out and held another chat with us,--ordered us some refreshments, which we went and partook of, after which wishing long life and happiness to his excellency, we took our departure. We then went down into Victoria, procured such goods and chattels as we required for our journey; we then packed up our tents and blankets, and walked down to the quay, where we found the steamer "Eliza Anderson," ready to start on her Journey. We went on board, crowded as usual,--all for Cariboo. We left the quay about eleven o'Clock, and steamed away through the channel and the sounds; rock after rock was passed in succession, till at length we found ourselves gliding away down
(page 20)
the might Frazer river, with its thousand tributaries, which, in 1859 was the great scene of excitement. Thousands in search of the precious metal, and not a few woefully disappointed and ruined in the attempt, could a fearful tale unfold.
We arrived at Westminster City, shortly after eight in the evening, and had little time to see the place; we thought it a strange site for a city,--rocks all round, and surrounded with a forest. At a short distance from the city, we observed the barracks on a very extensive scale. The other steamer being ready, we took our places, and in a little time she puffed off the scenery. On each side the Frazer was very pretty; but, darkness setting in, deprived us of further sight. We sought out a place to rest awhile, and at early dawn we hastened on deck. Along the banks we observed a great deal of cultivation going on, by the first settlers, (Kanackermen,) brought here from the Sandwich Isles, by the Hudson Bay Company; also, close upon the river were several parties of Celestials, with their rocking cradles, &c., seeking for gold dust. We also passed a many Indian camps, one very large settlement, just before we passed out of the Frazer into the Harrison River, at the mouth of which there was an Indian sanctuary, with its row of gods, of all shapes and sizes, some of the most hideous appearance, none of them remarkable for beauty; also, adjoining was a burial place, where a great many posts were erected, from which flags of various colours were hanging; also, some sheets and blankets, and on the top of one of the stakes were two guns fixed. On inquiry, we found that the remains of one of their (Tyhee) chiefs, a great warrior, was laid there; the blankets and linen we saw, were around him in sickness and death;, the muskets were used by him when in warfare. A little further on we passed a large fishing village. In the river there appeared to be any quantity of salmon, they were leaping out of the water on all sides of us, and the Indians in canoes, seemed to capture them easily; also, a vast of them were strewed on the banks. Hundreds of dead fish, and thousands of birds of various kinds feeding upon them; and for wild ducks, the place was literally swarming with them. After a few more turnings and windings along the river, we entered the beautiful and expansive Harrison Lake, some sixty miles in
(page 21)
length, and the beauty of the scenery on both sides for the whole distance to Douglas City, is indescribable. Mountains of great elevation, from five to ten thousand feet high, a many of them covered with perpetual snow, whilst their sides were densely covered with trees in full bloom, and vegetation and rich foliage adorned the base of the hills, presenting at one glance winter and summer. How wonderful and beautiful are the works of nature!
We arrived at Port Douglas about four in the afternoon, 13th June. Another wooden city among the rocks: we had fancied to ourselves, that, on our arrival here, our most difficult journey was over, but, lo and behold we were greatly mistaken. Before us lay four hundred miles of the roughest country ever seen; and for roads, we should have to take them as we found them, and moreover, we found we should have to pack with us as much food as we could conveniently carry, as we should have a difficulty in procuring it at the wayside houses, unless we paid extravagant prices; in order to do this, it was necessary to reduce our stock of clothing. I therefore, for once in my lifetime, had to act in the capacity of auctioneer, without license. We soon disposed of all but what we barely required,--the Indians and Chinamen having got some cheap lots. "'T is an ill wind that blows nobody good."
We purchased what we were likely to want, and then shouldered our packs and started away from Douglas; and proceeded about four miles to the first house. Here we purposed to remain for the night, having in this distance got a taste of the road; one place we had a fearful descent to make, down, down, several hundred feet. We made on a good fire, and rested awhile; some of the party cooked, and had refreshment. Others had a meal in the house for which they paid one dollar, after which we packed ourselves away for the night: some lay in a wooden shed; the rest, as many as could get, lay down on the floor of the house.
We rose a little after four in the morning, and took the road through the wood, and a wild look on we had: before and around us, gigantic mountains on all sides which we ascended and descended all the day; wading swamps and bogs, at intervals for a change. One swamp we came to, was impassable and laid right along the road for a considerable way, there was no way for us, but to scale the mountain side. We commenced, and a fearful struggle we had, having
(page 22)
to climb several hundred feet, almost perpendicular, before we could get clear of the rocks below. My friend Emmerson was completely exhausted, and almost ready to give up the ghost: I encouraged him forward as well as I could, and after a few struggles we accomplished the task. We were some time before we got ourselves collected together again at the other side of the swamp, some of our party having got a good way out of the trail. We travelled on a few miles further, and then camped for the night; we made on a good fire, cooked and eat (sic) our suppers; heaped a good deal of wood on the fire, to keep away intruders that might feel disposed to visit us. We crept into our tents, and laid our bodies down to sleep, and perhaps to dream of those we had left behind.
Through the day we passed a place called the hot springs, where the water bubbles up, in a very heated condition, so hot that you cannot bear your hand in it for any time. A speculator has turned this to a good account so far as he is concerned; he has erected buildings and private baths, which he recommends as beneficial for Rheumatic pains, a complaint very prevalent in this country, and no wonder, men sleeping on the ground night after night.
June 15, we walked for miles to the twenty-eight mile house. A small boat was just upon the point of leaving, a rush was made, and the boat was soon filled, and then started away over a lake, seven miles in breadth, and a very narrow escape they had from being drowned, in consequence of being over-crowded, the boat took in water, and a strong breeze blowing, it was nearly capsized several times. We with several others, crossed in a second boat, without any danger whatever. We passed some more groups of little and big Indian gods, place on the side of the lake. We had now got two miles to walk through another wood, to the next lake, over which a steamer plied with goods and passengers, once a day. On our arrival the steamer had just left, and we were doomed to wait till next morning. We learned this was a game they regularly played; they tried to leave passengers, so that the keeper of the house might have a chance of plundering them. We pitched our tent, and spent the day the best way we could: some went into the cannions (sic) to look for gold; others to shoot; some to fish; and some climbed up the mountains a little way.
(page 23)
We saw one at a distance that towered high in the heavens, and capped with snow, said to be fifteen thousand feet above the level of the sea. We all returned well tired, cooked some provisions, and had a jolly repast, and then to camp to wile away a few hours in sleep. Came on a very wet night; rose early next morning, breakfasted, packed up, and went down; took our places on the steamer, and in four hours were safely landed at Port Pemberton, the distance being twenty miles: charge, one dollar. Of all the places I ever saw selected for a town, this beats all; the houses or huts were all built of wood, stuck up here and there among the rocks; there was only one decent house in the lot, which was occupied as a store and grog shop, here you could get what they called a "square meal," for one dollar; a glass of ale or grog for a a (sic) quarter of a dollar; if you felt inclined to smoke a cigar you could get one for the same price. The log-huts were occupied by the packers and teamsters, two or three cabined together and doing all their own work. There was only one woman in the place, except the Indian squaws, and they were very numerous. There were several camps in and around the place, the people seemed to be quiet and inoffensive, yet repulsive to look upon, with their red painted faces; and still, strange to say, many of the painted squaws, were picked up, and cohabiting with the white men. The Indians make great pretensions to religious matters,--strict observers of the Sabbath day,--it is from their assembling together on the Sunday, and their noisy mode of worshiping, that informs the white men, what day of the week it is. The Catholic Priests have got the Indians under their tuition in this locality at present, and I am inclined to think they will not improve them much.
From Pemberton, a stage runs daily over the next portage, twenty-eight miles, if you go with it you will ride to the tune of eight dollars; this being the case, we preferred walking; we at once shouldered our packs, and started off through the woods again; but had not proceeded far, before our eyes were attracted by a notice on the wayside, "Cariboo the road to Rain (Ruin?)"; notwithstanding this, we posted on, and soon found ourselves walled in on both sides by the range of Cascade mountains, rough and rugged, showing at once there must have been some violent convulsions and upheaving in nature; they gave unmistakable proofs of Volcanic agency, the whole mass had been in a state of fusion in by-gone ages. Our attention was particularly called to one
(page 24)
small mountain by the wayside, on the top of which is the distinct impression of a large foot-print. The Indian explanation of the matter is that once upon a time, the "Sackally Tyhee,"—great spirit—descended and stood with one foot on this rock, and stept (sic) across the gulph (sic) below to a rock which was pointed out to us on the other side, where it bears the print of the other foot, if so, it was a fearful stride, I should say two or three miles at least: they do not tell us where he stepped to after that.
Having travelled upwards of twenty miles, the shades of night prevailing, we concluded to pitch our tent, and rest for the night; close by us was a beautiful rivulet so essential to gipsy life. After cooking and eating our suppers, we again stretched our weary limbs on mother earth, with the wide canopy of heaven for our curtains, and the wild bear prowling around us, seeking whom he might devour; we however awoke all right in the morning, found ourselves under the tent, and not in the maw of the grizzly bear. We started off and tugged away over hill and dale, till we reached the lake about ten o'clock. The boat not leaving till two o'clock, we wiled away the time as well as we could. At last the shrill voice of the steamer was heard; we hastened on board, paid one dollar, and were soon on our way over Anderson lake. When in the middle, it appeared as though we were in a basin, the mountains towering high on all sides, we could not perceive a way out, however we did manage out, and arrived at the opposite side about fire in the evening. We then walked two miles, and were just in time to catch the steamer, which was to convey us over the third and last lake; she, like the rest, was soon crowded with human beings, all big with hopes and prospects of the golden harvest to be reaped ere long, by each and all, out of the creeks and cannions of the far- (--?--) Cariboo.
Fatal delusion! (?)—Oh! Frazer and White,--
Ye'll get your fairins;
In h___ they'll roast ye baith (?) like herrins. (sic)
This lake being the same distance across as the last, in three hours we found ourselves at Seaton House, minus another dollar for our passage. Some stayed at the house all night, many walked forward a mile or two, and pitched their tents; our party proceeded forward to Lilleot (sic) City, four miles on our way. We passed beneath some towering cliffs, that had a frightful appearance, looming in
(page 25)
the darkness; also by the side of our path for a while, was a rapid running river, that appeared so full of wrath and mischief, as though it would burst its bounds and sweep us and every other thing it came across, to destruction. We reached the city, tired, weary and hungry as hunters, about ten in the evening. Some of the party sought fuel, and kindled a fire, others, went off and purchased some provisions, and brought them to the camp, and a hearty repast was made by each and all.
After which, we walked down to the store,
And laid our weary bodies on the shop floor,
Which the baker had kindly allowed us to do;
This being one favor shown us on our way to Cariboo.
Next morning we had a look through the town; it is situated on an extensive flat, between the chain of mountains, which follow the swiftly-running Frazer, almost down to the Gulph of Georgia. Lilleot (sic) is the most charming place I have seen in British Columbia; I like it better than Victoria, both for beauty and scenery. The houses were chiefly built of wood; there was one or two built of unburnt bricks, but the keen frosts of winter were telling upon them. We saw a good many Indians stirring about; they had a very ludicrous appearance, with their painted faces; also a great number of the tailed tribe from the Celestial Empire were waddling to and fro. After our ramble, we went down to the store, breakfasted of bread and milk, which was a great treat, having not seen any milk since leaving San Francisco. We purchased our stock of provisions, paying fifty cents per lb for flour. We were here told we should have ere long, to encounter another troublesome enemy—the musquito (sic)—and in order to get along, we should have to provide what they call a musquito (sic) bar, it is a large piece of gauze netting, in which you completely envelop your head. Having got all we thought we should require, we started forward; in a little time we found ourselves standing by the side of the might Frazer, over which we must pass. Along the banks we saw a good many at work seeking gold; we were told that they found it in quantities sufficient to pay them for their labour. The ferry boat having arrived, we made ready to cross. We had to go a long way up the river from the landing before getting into the boat, and although we did this, the current was running so strong, that on our arrival at the opposite side, we were driven a great distance
(page 26)
below the landing place, I was glad when we arrived. We were charged fifty cents each. Our course now lay alongside the river, and for miles as we trudged on, we saw by the upturned ground, the pits and trenches that had been dug, and old flumes for washing out the gold, that all this was the effects of the gold excitement of 1859.
We remarked as we passed those relics, if we could but get the true history from those who labored here, it would be a fearful picture of sufferings and disappointments. I am inclined to think every ounce of gold taken out of the ground has cost more than its value: the few that have been successful do not compensate for the many that have been unsuccessful. The history of the California mines warrants this conclusion—it is a black history. Hundreds of families were broken up. How many husbands went out to the diggings, and never returned. What a vast number under the excitement were driven to madness. Visit Stockton Asylum, a town in Sacramento county, California, and you will there find it filled with madmen, constantly raving about their gold. I saw one wreck myself in Portland City, a madman their (sic) confined—all his cry was about the glittering dust. Then again, the men who were the most fortunate, who took out gold in abundance, were led away into extravagance and ruin; and it is an acknowledged fact, that the very most of them are amongst the poorest in the state, and pests to society.
The road we were traveling over, was very good, being the new road made by government. We had walked about ten miles from Lilleot, in reality we were only four to use a sea phrase,--we had boxed the compass round the mountain.
At this point we came across an Englishman labouring by the wayside, who had been induced to leave his home by the fabled reports of Cariboo; but had given up the journey at present for a bad bargain, he had heard so many unfavorable reports, and seen so many returning, he thought he would wait awhile. He told us he believed there was gold along the Frazer river, that could be got without going to Cariboo. We being at this time close upon the river, resolved to try our hands and see if Dame Fortune, (although a fickle dame in this country,) would smile upon us, I and my two sons descended the river, and commenced operations at once. We washed several pans of dirt, and found
(page 27)
small specks in every pan, but not sufficient to pay us. We walked a little further up the river, and came upon a party of Chinamen at work with their rockers, but not being able to understand their language, we could not learn how matters fared with the, they pointed out some pieces of gold in their apparatus, but they were very cautious in trying to give us any information on the subject. We saw several companies at work across the river, we however learnt, they could take out about two dollars worth of gold per day. This would never do for us. Why, stop here for that, when we were told by Mr. Frazer that once at Cariboo, our fortunes were made. We could not go wrong, in every river, creek, and tributary, the precious metal was laying in abundance, and but little from the surface. With this impression, we hastened away, and soon found out that we had made a sad mistake. In our hurry down the hill we forgot we should have to return; there the hill stood before us in formidable array, and before we reached the summit, I was nearly exhausted. We then travelled on for a mile or two, pitched our tents, and rested for the night.
In the morning, betimes we journeyed forward over the hills and through the valleys, some places we took the old trail over the mountain tops,--in preference to the circuitous route round the foot of the mountains, along the newly formed road, saving a few miles walking thereby. We came to where the road diverged,--one the government road, the other the old river trail, which we were told was fifty miles shorter route; we therefore took it, and our choice proved not a happy one. We found it to be one succession of mountains and swamps the whole way; likewise, we soon found it necessary to fold our heads in the musquito (sic) bars, to save us from being completely worried, they made a fearful attack upon us, and continued the warfare day and night, the whole journey through. I got rather amused nevertheless, with our friend Emmerson, he had never been in such company before, and was anxious to see the effects upon him. He allowed them to bore their proboscis quietly, and take their fill of claret; he soon got satisfied,--denounced them as terrible pests, and slew them without mercy. His sufferings from them were nothing in comparison to what others suffered; some were completely disfigured and blinded with them, their hands swollen twice their usual size. In this condition we struggled on day by
(page 28)
day; scaling mountains; plodding through valleys; and, to add to our troubles and damp our ardour, we met upon an average, seventy returning every day, in a wretched, miserable condition; relating heart-rending tales of their sufferings and privations; describing the place they had left, as one complete scene of wretchedness and woe; hunger and starvation stalking through the length and breadth of the land.
Our journey after those reports was rendered anything but pleasant; 't was bad before, but, with such a fearful prospect looming in the future, made it doubly worse. Hints of returning oused (sic) out from time to time,--still we tugged on, and a fearful tug we had. One day a mighty mountain stood before us, and over it we must go if ever we reach Cariboo. After a good rest, we addressed ourselves to the task, which took us several hours to perform, and almost proved the last toil for poor Emmerson; he sunk several times quite exhausted; the day was fearfully hot, and no water to be had,--his thirst became intolerable. We encouraged him on as well as we were able—used stratagem by telling him we heard the water roaring ahead of us, and never shall I forget the emotion and pleasure we all experienced, especially him, when we in reality did hear the glorious sound of water ahead, issued by the first there, and sent back as by electricity, till the last traveler on the mountain caught the news. We hurried on, and soon heard the water rushing in torrents down the mountain side. 'T was a mighty fall; when we arrived, how eagerly he clutched the cup, and would no doubt have done himself harm, had we not prevented him—dragged the cup from him several times. Here we pitched our tent for the night, by the side of this glorious stream, which I have no doubt saved the life of one of our party at least, and had probably saved the lives of many others before.
Next morning before us stood another formidable mountain, designated the Big Slide, over which is a dangerous pass, being of a sandy nature, and by the side of the trail is a precipice, several hundred feet perpendicular, at the bottom of which, lay bleaching the skeletons of both men and animals, in one mass together.
A few more days and nights of miserable traveling, brought us to William's Lake, which place we reached on Wednesday, the 24th of June. The night
(page 29)
before, while camping, we were visited by a bear, he took a survey all round our tents,--fell in with nothing to suit, except a bag, which he walked of (sic) with; it contained nothing but tins and cooking utensils, which rattled when he was hugging (sic) them off, and aroused one of our neighbours, who peeped out and saw his lordship retreating, he returned for his revolver, but Mr. Shaggy took the hint, dropped the bag, and decamped as quickly as possible.
At William's Lake there was a vast number of returned Caribooites, and amongst the rest were several of our former traveling companions, who had been forty-five miles further up the country; but, found matters grew worse and worse—they returned, and this decided the fate of other two of our company. Emmerson and Marquis resolved to return along with them; thus reducing our party to three, myself and two sons. We however resolved to proceed, and see how matters fared at the terminus. Here we parted with our friends, which was not done without producing a keen and cutting emotion; how could it be otherwise! We had shared the troubles and dangers together, for ten thousand miles, and here we part, in a strange, wild country, perhaps never to see each other again! After we had provided ourselves with provisions, which we found were getting the farther we went, a very costly article; we started away with sad hearts and weary limbs. We entered the wood again, and walked on about two miles, darkness closing around us.
And the wood fowl had gone to her nest,
The wild beast had laid down in his lair;
Even here we had great need of rest,
So we to our tents did repair.
Next morning we started away about seven, and that day and the two following days, we walked, and waded over and through some awful roads and bogs, as ever laid (?) out of doors.
We reached Quesnelle City on the evening of the 27th of June, tired, weary, and miserable, as it was possible for mortal men to be; we erected our tent, and decided to stay here a few days to recruit nature. I went and bought some flour, for which I paid eighty cents per pound; cooked and had some supper, and then laid down to rest. Next morning we found there was a large number of tents all around us, partico (?) returning—others on their way. We here heard some more doleful accounts of the diggings; also, of the next fifty
(page 30)
miles we had to travel over, it got worse and worse. This place was filled with stores and warehouses, chiefly kept by Jews—regular extortionists; sold their goods at exorbitant prices, their selfishness was injurious to the travelers, and a curse to the country. All the goods that came here, were packed on mules; but, from here over the next stage, they had to employ galloways; mules could not travel over the swamps. A good deal of provisions were packed from here to the diggings by men, who carried from one hundred to one hundred and fifty pounds on their backs; they charged thirty cents per pound; it took them six days to go and return. We purchased a stock of provisions for our forward journey, two fifty pound bags of flour, costing sixty-five dollars (£13), and this was considered cheap. We bought it of a party who had just come to the city; he was under-selling the thievish Jews, and in so doing was risking his life.
We left on the morning of the 30th of June, and in our travels through the day, we were overtook by an Englishman, we joined company and pulled on together, through mud, dirt and misery. He was from Derbyshire; he had left a first-rate situation in Chesterfield,--having read in the papers, Frazer's dazzling reports of Cariboo; he could not rest any longer, but started off in company with two younger brothers, for the Golden Valleys. He and his youngest brother arrived there;--the other got a situation down in the country, and remained below. On their arrival they found provisions so high, that the oldest started back to Quesnelle City, leaving his brother to prospect the country, whilst he packed up provisions. He was returning with a pack on his back, of at least seventy pounds (pretty job for a banker's clerk). When we joined company. We encamped together for the night.
Next morning we passed Keithley Creek, the commencement of Cariboo. There was little doing here; one or two companies were working, but with little success. We had not proceeded far through the wood, when it began to thunder and lightning, accompanied with heavy rain, which continued all day and night. We erected a brush wood shanty, made on a good fire, and remained here till morning. We passed a very uncomfortable night, our blankets having got all wet, we slept very little. Next day was spent in wading swamps and climbing
(page 31)
mountains; the wet day and night not having improved the roads at all, we arrived about mid-day at the foot of the great mountain, called Snow Shoes, but we durst not engage with him till we had a good rest and dinner; after which we started up, and after a few hours toiling and sweating, we stood upon his snow-capped summit, with as magnificent a view before us as eye can behold, the whole range of Rocky Mountains lay stretched out in thousands before us, as far as the eye could reach; a vast number of them had their snow-crowned heads amid the clouds. It was a mountainous sight, underneath us, around us, on every side, east, west, 'tis folly to attempt it, this view alone, I thought was worth all the troubles and hardships we had passed through, and at the moment I felt as though I could have forgiven Frazer for what he had done, but again, when I thought how many hundreds, nay thousands, through his false statements, had been brought to ruin and starvation, my feelings were changed.
We toddled down the other side, and when we reached the Bottom, there lay the Slough of Despond in reality; at it we went, and after a fearful struggle, we found ourselves at the other side, weary and fatigued; we resolved to camp here for the night. Next morning our Derbyshire companion started away without us. We purposed staying here for a day to prospect some creeks, that run along the foot of the Bald mountain, which we did, through the course of the day, without success, in fact, we never saw colour in the pan. Through the day a party of gold miners from New Zealand, in whose company we had previously travelled, but got ahead of us, and had been to Antler Creek, but in consequence of the dismal appearance of the place, everything looking the very picture of misery, they "bont ship," and passed us on their way back. Very disheartening news this,--coming from parties that had been roughing it for many years. Next morning we started out again. Through the night a circumstance transpired, that might have been fatal to one of our party; my son not being very well found it necessary to leave the camp; on returning, he came creeping in; I wakened at the moment and saw him, my first impression was, that it was a bear; in order to have time to get my revolver, I struck out with my foot, and set him back; he shouted out just in time to prevent me shooting him.
(page 32)
A terrible day's traveling we had through swamps and quagmires, over fallen trees, ledges of rocks, bog-holes, of such a nature, that every step you took you didn't know but it would be your last; you might sink to rise no more. We crossed several gulphs filled with snow, from fifteen to twenty feet deep, and the road was literally covered with dead animals. Thus we struggled on, and finally reached Antlers Creek, tired and weary, about four o'clock in the afternoon of the 4th of July, and to a certainty, we found it a rough looking place, log huts, canvass tents, all over the place, ditches, pits, mounds of earth, flumes, trenches, and sluice boxes, pumps &c., in fact, you hardly knew where to go. After wandering about awhile, we struck a place and pitched our tent, kindled a fire, had something to eat, and after awhile laid our weary bodies down to rest, but there was very little sleep for us that night; being the 4th of July, the Yankees were celebrating the gaining of their independence by burning the trees in the forest, discharging guns and revolvers, and making many other disagreeable noises the whole night long.
Next morning we started off up Antlers Creek to seek the golden dust, and in going along we passed hundreds of places that had been prospected and abandoned. No treasure there to be found, we at length came to a place, which we considered likely, and commenced operations at once, worked hard all day, returned to the camp in the evening like many hundreds that day, without seeing colour in the wash-pan. Next day we returned to the same place: we did, however, find colour to-day, but that was all. We worked here some time, but were obliged to leave in consequence of water rising upon us.
Two other Englishmen, just below us, had been working for several days, but had found nothing; one of them gave up the job, packed up his kits, and started back; the other one, an old experienced digger, who had been out to the Australian mines, joined us, and we went the whole hog day after day, and many were the holes we dug; in some of them we found gold, but not in quantities to pay, in fact, I never heard of any parties striking it in this creek this season, sufficient to pay expenses. There were several companies at work, two or three claims were paying, one especially paying well, which I saw for myself; two or three times after they had cleaned up their sluice boxes in the evening, for their
(page 33)
day's work, from eight hundred to a thousand dollars of gold in the pan, but even this company had been at an enormous expense, before getting their mine into operation, they were considerably in debt, and the danger was, before they got cleared up, the vein would work out, as was frequently the case.
There had been a great deal said about the richness of this creek, and the quantity of gold taken out from time to time; but not a word was said on the other side of the question, (one tale is good till another is heard) there had been several companies ruined at this creek. One company, a party of eight Cornishmen, I was well acquainted with, were on ground adjoining this rich claim, we passed and repassed the place for many days; they took up eight claims, one hundred square feet to a claim, they had worked for months, had diverted the river, put in flumes, prepared their sluice boxes, got their pumps and all other necessary apparatus ready for work, and yet they never struck it in sufficient quantities to pay for working, and the day before we left Antlers Creek, they abandoned the place, and left it ruined men. This was the case with every other creek; some struck it rich, and this was blazed in every paper: the many lost all they had, and were completely beggared; this was never named but hushed down.
My opinion of the affair is, that there is gold, but not in every creek and cannion (sic), nor is it laid just below the surface; it is laid in spots, and deep in the ground. The shallowest diggings I saw or heard of were ten feet deep; but in most places gold was found at a depth of from twenty to thirty feet, and in some places much deeper even than this; and for the dry diggings mentioned by Frazer, they were not found when I left Cariboo. Water was the greatest enemy we had to contend with in most places we prospected; we were driven out with water, we could not reach the bed-rock, even with pumps, we were defeated, and the water was fearfully cold. The general cry was, "We can't get down for water."
We worked on till the 19th of July, but never made a cent; the cost of living was awfully high, provisions cost me for three of us, nine dollars per day (thirty-six shillings). Flour, four shillings per pound, sometimes five shillings, many times for days together there was none to be had; Bacon from four to five shillings per pound; Beans, four shillings; Sugar, four shillings; Tea and Coffee,
(page 34)
twelve shillings; Beef, two shillings, as for Salt, it was a luxury to get it; if you got what served a meal, it cost a shilling. Every other thing was equally dear, if you went to a Restaurant you had to pay two and a half dollars (ten shillings) for a dinner.
Fine country this to come to. As for the weather, we had rain either through the day or night, all the time we stayed; and the last day we were working, we came upon ground so hard frozen, that it was with difficulty we broke it up.
Quite satisfied, and sick of the place, we packed up our trap-sticks, and walked off on the 29th of July. All the ground was white with hoar frost, and the morning was cold as Christmas, I felt a glow of pleasure, when I got my back turned of one of the most disagreeable and inhospitable places man ever lived in.
We remained in the country below sometime, but before I left Port Pemberton in October, Cariboo was buried deep in snow, and report said that seventeen hundred pack animals had perished in the storm, and a vast number of men were missing. A fine specimen this of a great agricultural country, possessing a first-rate climate. I feel astonished above all things, that Donald Frazer does not at once go out, and take up his abode there.
I sailed from Victoria on the 19th of November; and arrived in England on the 4th of February, 1863.
Printed by W. M. Wright, Stockton